Rain Garden to the Rescue
By: Darrell Marcinek, CGCS
Director of Golf Maintenance, Somerset County Park Commission
Golf courses have always been scrutinized for water use and potential contamination of local waterways. The fact is, of the two billion gallons of irrigation water used daily in the United States, golf courses account for only two percent. Another little-known fact is that livestock are the most likely culprits of water quality issues rather than the local golf courses. There may never be a solution to this problem, but perhaps a rain garden can help assuage some of the scrutiny and questions that golf course superintendents face.
A rain garden is a shallow depression (essentially, a hole) in which plants, shrubs or trees are added, that allows rainwater runoff from impervious areas like driveways, walkways, parking lots or roofs the opportunity to be absorbed.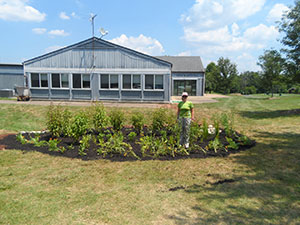 There are many positive rain garden benefits; its main purpose is to improve the quality of ground water before it enters nearby bodies of water by filtering runoff, and it also provides some flood control. Rain gardens also recharge groundwater reserves and encourage wildlife and biodiversity. A side benefit is to tie together buildings with their surrounding environments in attractive and environmentally advantageous ways.
Without rain gardens in place, storm water typically flows directly into streams and storm drains, which may cause overflows of sewer systems or poisoning, erosion or flooding of the waterways that receive the storm water runoff. Storm water runoff may also be a source of a wide variety of pollutants which can get washed off hard or compacted surfaces during rain storms. These pollutants might include salt, pesticides, fertilizers, petroleum products and harmful metals. Adding a rain garden can significantly reduce the ability of these pollutants of ever reaching our waterways by more than 25 percent.
Selecting the location of a rain garden is much easier than you think. Your club may have an area at low end of a parking lot where water flows onto a grassy surface,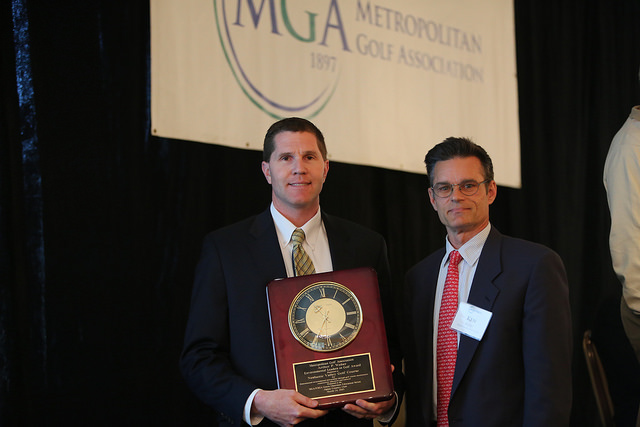 and then into a waterway or storm drain. Your clubhouse or maintenance building might have multiple downspouts directing water onto a grassy area. Both of these locations are ideal, but make sure it is at least 20 feet away from any structure.
When planning for a rain garden, it is important to choose native plant species that are indigenous to your area, and avoid using plants that are on the invasive species list. Plant selection should include "water-loving" plants, and also salt-tolerant types. Some of these plants may attract birds, butterflies, bees and many other beneficial insects. A sandy loam or 6-2-2 mix is typically added in place of the soil extracted from the depression. Local extension offices or universities can assist with plant selection, and they may even offer their services to help construct your rain garden. Once established, annual maintenance is no more than mulching and weeding as this type of garden waters and feeds itself.